Psychic Readings In Manhattan, NY
Many people ask what a psychic readings in Manhattan entails,  so Jesse Bravo explains the dynamics as to leave no questions unanswered.  Readings are held in a quiet comfortable safe place in Manhattan or over the phone and as a psychic medium I require a calm quiet environment in order to receive impressions, information or feelings. The images, feelings and sounds allows me to get in touch with your energy, and when that is done, information is revealed to me by your loved ones, guides, angels or friends from the other side (Spiritual realm). In the realm of spirit, many things are revealed in order to help you through your tough times, these hard times include problems with money, romance, career and many other life issues. So Jesse gives his clients as much information as possible, so that they may make the best possible decision in their life. Jesse helps those in need and has become a relied source through out the world to the point many known and famous psychics contact Jesse for his guidance in their lives. these famous psychic call him the psychics Psychic becasue of his ability to help people through all phases of their lives.  Many people throughout history with tremendous psychic gifts have helped humankind and Jesse is doing the same. Come  get a psychic reading in manhattan, NY from one of the best psychics in world and find out why Jesse is so sought after! Here are some psychic abilities Jesse uses during his readings
Clairvoyance
Comes from a French word clair meaning clear and voyance meaning vision. Jesse uses this ability to see quick images  ( symbolic and  real ) that come together as  a quick movie that enfolds either in his sight or  minds eye. This information can be be about the past, present and the future.
 Telepathy
This word comes from the Ancient Greek tele which means distant and  pathos or patheia meaning feeling and or experience. This happens often when you feel something weird and turn around and your startled to see someone staring at you. Information is passed from clients to jesse in a unspoken matter.
  Precognition
This word derives itself from Latin præ (PRE) which means before and cognitio in acquiring knowledge. Jesse can see events that not have happened yet and advise you on how to handle or prepare for them.
241 West 30 Street 2nd Floor
Manhattan, NY 10001, United States
Phone: (917) 733-3107
newyorkpsychic@gmail.com
Summary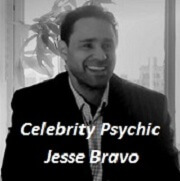 Psychic Readings In Manhattan, NY
Description
Celebrity Psychic Medium Jesse Bravo provides psychic readings in Manhattan, NY . Schedule your psychic reading today 917-733-3107
Jesse Bravo
Celebrity Psychic Medium Jesse Bravo