FearNYC Celebrity Psychic Medium Jesse Bravo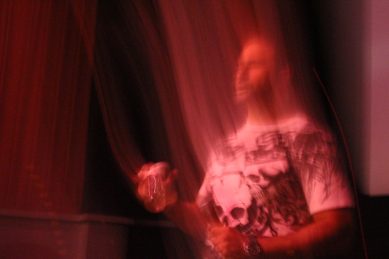 Doing a large seance for FearNYcc film festival on October 22 at 11 PM, this is going to fun and right after everyone will watch the Exorcism.
FEARnyc is New York's City's biggest horror film festival. Sponsored by Bloody Disgusting and Dread Central, FEARnyc features screenings of dozens of new horror films in the days leading up to Halloween. The 2017 festival will take place in October at The Sonnet Theater in Times Square, NYC. Click here to submit a film.
"FEARnyc is the must-attend horror event of October. It's so impressive that I'm pretty sure it's the best thing happening in the entire country this October." – Dread Central
​"A must for horror fans" – Truly Disturbing
​"Your ideal Halloween warm up event" – Wicked Horror
​"Horror fans are in for a macabre menu of varying flavors when FearNYC, a new film festival, makes its debut." – The New York Times
​"A huge, authoritative horror film festival is coming to NYC next week. The significance of Manhattan hosting a major new horror film festival is not small. FEARnyc will be world-premiering several new works; the festival could grow into a launching pad like Austin's Fantastic Fest has become. I've seen much of the first batch of films…and there's some seriously promising stuff here. But just as importantly, if you ever wanted a one-week crash course in the horror essentials, you couldn't do better than FEARnyc. I would basically live at Cinema Village all week if I could." – Time Out New York
​Some of the highlights from the 2016 festival include:
​Screenings of Night of the Living Dead, Psycho, Hocus Pocus, The Texas Chainsaw Massacre, The Monster Squad, The Lost Boys and A Nightmare on Elm Street 3
​The premiere of Dead Awake, the new film from Final Destination creator Jeffrey Reddick
​A screening of The Exorcist which will began with a seance with the audience led by renowned psychic Jesse Bravo
​A screening of the original 1978 Halloween with a Halloween Party featuring candy bags and games for the audience
​Screenings of classic films including Nosferatu, Carnival of Souls, The Cabinet of Dr. Caligari, House on Haunted Hill, Plan 9 from Outer Space, Dementia 13, Silent Night Bloody Night, And Then There Were None, The Brain That Wouldn't Die, Reefer Madness and Santa Claus Conquers the Martians
​Screenings of brand new horror films including Gedeon Burkhard's The Key, The Butcher Brothers' A Beginner's Guide to Snuff, Hannah Macpherson's Sickhouse, Shawn Burkett's Don't Fuck in the Woods, the anticipated remake of the splatter classic Blood Feast and documentaries about Pet Sematary and Carrie
​Faust: The Live Event, a screening of the silent classic Faust accompanied by a live performance of a soundtrack by Ben Singer of Modern Robot
An award ceremony honoring the year's best horror films